Streamlining Insurance Operations: How BindHQ Revolutionized Efficiency and Growth for Novatae Risk Group
Wholesale and specialized insurance brokers are always on the lookout for effective insurtech solutions to overcome the shortcomings of legacy systems, manual underwriting, and operational inefficiencies.
Insurance agencies need innovation to streamline workflow, enhance efficiency and mitigate risks. This is where BindHQ comes into the picture. As an insurtech 'think tank', we provide technological solutions to address specific challenges for speciality insurance brokers. We go beyond standard agency management systems to provide customizable solutions to address company-specific challenges.
This article explores how BindHQ transformed operations, underwriting, agency and contract management, and risk mitigation for the Novatae Risk Group.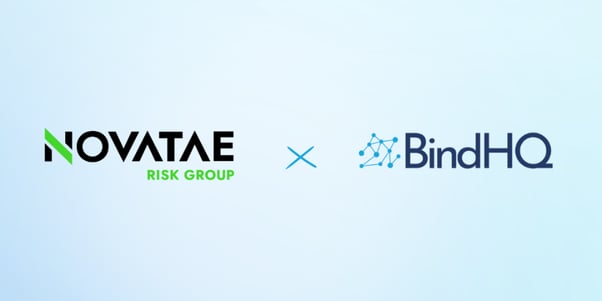 Novatae Risk Group: Profile and Challenges
Novatae Risk Group is a leading insurance firm specializing in wholesale brokerage and underwriting solutions. With a commitment to innovation and customer satisfaction, they strive to provide comprehensive and reliable insurance services to clients nationwide.

Novatae Risk Group was faced with several challenges regarding agent portals, underwriting data consolidation, and back-office management.
First, their agent portals suffered from usability issues, leading to difficulties for agents in accessing and processing policies efficiently. This resulted in delayed responses to client queries and hampered customer satisfaction.
Second, consolidating underwriting data from various sources proved to be cumbersome. Their error-prone process led to inaccurate risk assessments and potential financial losses. Ensuring data accuracy and consistency posed a constant challenge for the company.
Finally, outdated systems in their back-office management hindered workflows. This resulted in slower processing times for policy approval and claim settlements, impacting operational efficiency and the company's reputation.
Overcoming these challenges called for a concerted effort by Novatae Risk Group to modernize its agent portals, streamline data integration processes, and upgrade its back-office systems.
Customized Assurance: Contractactors Guard for Contractors

Contractors Guard is a customized General Liability product that caters to contractors in the insurance sector. It has played a vital role in addressing the challenges faced by the Novatae Group.
This tailor-made solution provided comprehensive coverage, protecting contractors from potential risks and liabilities. Its implementation strengthened Novatae Group's risk management capabilities, enhancing its ability to offer reliable insurance services. With Contractors Guard's , Novatae Group achieved greater client satisfaction, increased operational efficiency, and a huge boost to their reputation as a trusted and forward-thinking insurance provider.
BindHQ's Automated Underwriting for Enhanced Efficiency
BindHQ's automated underwriting and insurance pricing implementation powers Contractors Guard for the Novatae Risk Group, fostering significant efficiency improvements within the company. By streamlining these processes, BindHQ reduced manual intervention, minimized errors, and accelerated policy issuance. This transformative advancement saved time and resources and enhanced customer service by enabling quicker responses to client inquiries.
Time-saving and Better Turnaround.
Thanks to BindHQ's product, Novatae Group reaped substantial time-saving benefits. There was a remarkable 20-minute reduction in generating quotes, which enabled faster client responses. Similarly, the policy issuance turnaround time saw an impressive cut of 3 hours, which streamline the entire process.
Streamlining Risk Validation
BindHQ's user-friendly platform has optimized Novatae's agency operations by enabling efficient management of submissions and quick validation of risk appetite. This has not only accelerated the risk-assessment process through immediate access to real-time data, allowing agents to make well-informed decisions swiftly but also granted them a competitive advantage.
The improvements introduced by BindHQ have resulted in faster policy processing, enhanced client communications, and increased customer satisfaction, reinforcing Novatae Group's market presence and encouraging innovation and excellence within the organization.
Transformed Builders Risk Insurance with Builders Guard
Novatae Risk Group faced multiple challenges with their legacy platform for builder's risk insurance, including outdated technology, limited data integration, and slow policy processing. These factors were hindering operational efficiency and customer service acutely.
BindHQ's Comprehensive Platform for Builders Risk Insurance
BindHQ's bespoke rate, quote, and bind platform for builder's risk insurance empowered Novatae Risk Group with specialized coverage options tailored for construction projects. The platform facilitated efficient rate calculation, and real-time data access, and streamlined the underwriting processes to reduce manual entry and expedite policy issuance. Client self-service capabilities helped Novatae gain a competitive advantage, which helped position them as a preferred and trusted insurance provider for builders and construction ventures.
BindHQ demonstrated remarkable agility and efficiency by successfully implementing the platform within a swift timeline of 70 days. This rapid deployment showcases BindHQ's commitment to delivering cutting-edge solutions promptly. It allowed Novatae to quickly harness the platform's benefits and enhance operations to provide enhanced services to its clients.
BindHQ's scalable Builders Risk product will enable Novatae Risk Group to expand its operations significantly, from serving only 2 states to potentially extending its offering to a remarkable 40+ states. This goes a long way to highlight BindHQ's platform adaptability and its ability to facilitate business growth.
Consolidating Operations for Seamless Management
BindHQ has significantly transformed Novatae Risk Group by integrating agent portals into a singular, cloud-based platform. This consolidation has streamlined underwriting, back-office, and insurance CRM processes, eliminating data silos and ensuring seamless information flow. This enhancement in operational efficiency and real-time data access has improved decision-making, accelerated policy processing, and elevated customer satisfaction levels.
Benefits of the Integrated, Cloud-Based Platform
BindHQ's meticulously designed platform provides Novatae Risk Group with numerous benefits including:
Increased Operational Efficiency: The automation and real-time data access provided by BindHQ have refined workflows and quickened policy processing, enhancing overall staff productivity.

Optimized Data Management: Centralized data storage has minimized data silos, ensuring accuracy and consistency, and providing an encompassing view of client information.

Enhanced Collaboration: Unified platform access for all stakeholders has improved communication and responsiveness, resulting in higher customer satisfaction.
Paving the Way: Modern-Day Insurance with BindHQ
BindHQ played a pivotal role in Novatae's transformational journey towards adopting modern insurance technology. The technology integration helped Novatae experience efficient growth, improved client interactions, and streamlined processes. BindHQ's comprehensive platform empowered Novatae to leverage innovative solutions, enhancing its market position and delivering outstanding insurance services.
You can boost your insurance company's edge with BindHQ's advanced solutions. Adopt modern technology for a competitive advantage. Get started now!